Swap.com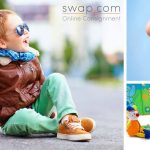 What is Swap.com? We enable a community of thrifters to find affordable, quality secondhand apparel for the whole family. Being an online thrift store, we make it easier than ever to filter through like-new, pre-owned clothing. Together, we keep millions of items out of landfills, which is something everyone can feel good about. We hand inspect every item to ensure they're ready for secondhand use. We constantly hear positive reviews from customers on our quality — even on those noted "fair condition".
Find up to 90% off retail pricing on your favorite brands. Unlock the secret to feel-good fashion at an affordable cost. People won't know, but your wallet will! Doesn't fit? Aren't in love? No worries! Send it back within 14 days (Extend to 30 days by signing up!) Plus, we always offer free shipping on orders over $99!
At Swap.com, we breathe new life into one-of-a-kind items. Our quality will shatter your idea of "thrift", and our unbelievable selection of everyday items will help you find anything you need. We live for the thrill of finding something unique. We add thousands of new items every day, so you'll never know what you'll find. While most online consignment sites are focused on high fashion for women only, Swap.com is everyone's thrift store, with both practical and cool items that you can't get anywhere else.
We believe that every dollar counts, and buying gently pre-owned items can add up to big savings in the long run. You work hard for your money and love thrifting, but local stores don't carry a wide enough selection. We want to make it possible for you to find high-quality alternatives to buying brand new for anyone in your family.
We care about finding good homes for things and keeping them out of landfills. It's not just a transaction. We celebrate creative ways to reuse things around your home. It's intrinsically satisfying to reuse things and be part of a community of others who reuse, working collectively toward a better planet and cleaner world.
In order to sell on Swap.com, you send your pre-owned, good quality items to our fulfillment center. Due to current demand, we are on an invite-only model for selling. Once accepted, your clothing is stored in our climate-controlled warehouse in Rocky Mount, NC and, upon purchase, is shipped on your behalf to the purchaser.
---
---