Freedom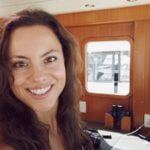 Freedom & Adventure… After many years of working our way up the corporate ladder and living a "normal" American lifestyle, change is in the air! It's time to live and explore our beautiful earth, outside of cubicle walls and fluorescent lights, to experience what true freedom means to us -to go where we want to go, do what we want to do and ultimately live a life that feeds our souls.
While the typical 8-5 loaded with meetings, touch bases, conference calls, performance reviews, team buildings, 401(k), health insurance, PTO, stock options, generous salaries, bonuses and enough office donuts to feed small armies are all fantastic things that have allowed us to realize our dream of owning Freedom, they are no longer things that bring real joy to our lives.
We can make more money, but we can't make more time. So, after years of talking and scheming about "the plan," we are finally beginning to put the pieces of that puzzle together with a plan to cast off around the globe starting in mid 2022(ish). The globe, really? Yes, the globe. We have the boat to do it, and we will do it. We have been working hard and saving our pennies for the last decade, and since we can't take it with us we plan to put it all to good use by investing in an experience of a lifetime.
What about your boat dog? We love nothing more than our precious dog, Mr. Sully (and we miss our Sandy very badly too)! Our cruising plans will take us around the globe, but they will also remain flexible on timing and routes taken to accommodate the safety and comfort of these two goonies. We are planning our routes carefully and thoughtfully to ensure we arrive at destinations that don't require animal quarantines and that are safe for all four of us to enjoy.
In the meantime, we have a lot of work (boat work, work work, mental work, all kinds of work) to do before we're ready to head out, so be sure to keep up with our adventures on YouTube and Instagram. We may not know where life is going to take us, but what we do know is that we'll be going there on our Nordhavn 43!
The Man… the Myth… the Legend… the Captain! Born with a heart of gold and go-go-gadget arms that can do anything and fix everything, Shawn has worked in the Plastics industry for over 22 years with a focus on factory automation. Being a licensed USCG Master 100 Ton Captain with an engineering mindset, he loves nothing more than firing up Freedom's engine and leaving the dock behind. He runs a tight ship (pun intended) managing 100% of everything required of a boat owner from engine maintenance to waxing the hull to SO MUCH MORE… He's got a big smile and big dreams of circumnavigating the globe with Freedom.
Behind every great Captain is a great Co-Captain! After years of being First Mate, Elizabeth became a licensed USCG Master 100 Ton Captain in March 2021 to support Shawn as they prepare to embark on their cruising plans that include circumnavigating the globe. After enjoying a successful 13-year career in Merchandising & Retail Technology, Elizabeth quit to take a 2-year sabbatical to "stop and smell the roses" for a bit. After Covid delayed those plans, she joined a retail start-up in 2021 as an Inventory Planning Manager working 100% remotely before leaving in 2022 to focus her energy on boats and full-time cruising. When she's not running, hiking, baking. listening to podcasts, or reading about world cruising routes, Elizabeth can be found behind a camera capturing content to share on their YouTube channel.
Freedom is a 43' Nordhavn yacht built in 2004. With only 41 built, she's the 3rd hull from the lineup. What we love about her most is that she gives us the ability to travel comfortably and safely to remote destinations that many other recreational vessels can't reach simply because they don't have the capability and/or fuel range to get there. She's built like a bull and has the redundancies necessary to allow cruisers to confidently cross oceans and explore the globe.
---
---